Outdoor furniture pieces for your patio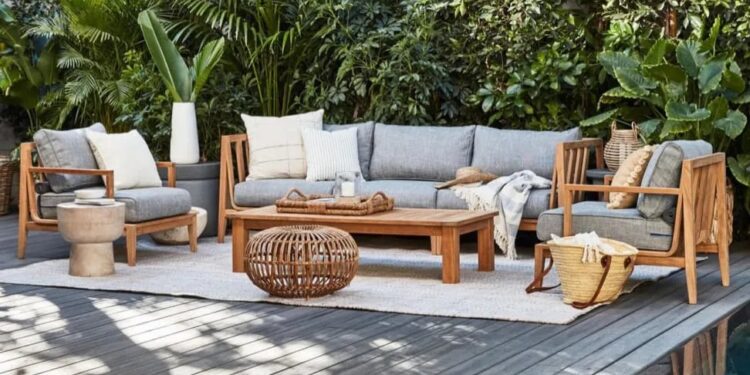 Having a patio or an outdoor space in today's times is like a dream come true. If you have a balcony, or garden area, attached to your house, you would want to ensure that you have decorated it with utmost care and diligence to make it look like the best version of itself. This is the space where you can have a window to the outside world and a gamut of furniture options can be used to decorate the area well.
Make your warm summer evenings while watching the sunset more lively, and ensure that you cozy up during cold winter nights with a bonfire, all of this can be made possible with proper outdoor furniture options that you can choose. Whether you want to keep it minimalistic and simple with a few garden chairs or you want to add a bunch of lights to steal the show, the choice is yours.
Chairs – Balcony chairs come in many varieties – all meant to serve the purpose of perking up the outdoor area and be functional in terms of seating. Enjoy an evening out with friends without having to travel elsewhere. Relish a hot, steaming cup of tea with your favorite snacks while watching the sun go down into the horizon. Choose a set of chairs that will provide you with the utmost comfort and luxury.
Swings – A swing is relaxing, elegant, and highly comfortable. Made in many designs and styles, you can cocoon inside the swing chair and rock your way as you speak to your friends and family over the phone. These chairs are also comfortable enough for you to complete your work if you want a change in scenery. Choose a chair with or without a stand, various stand colors, cushion shades, types, etc. This can be done based on your budget and the space available in the outdoor area of the house.
Tables – Provide a rustic look to your outdoors by choosing tables that are made of solid wood. For makeshift outdoor furniture styles, tables and chairs in plastic are also available to select from. The whole ensemble of the house can have a different vibe as opposed to the outdoor furniture as you choose metal tables or cane tables with matching chairs. Cover the table with a single plant in the middle or use a tablecloth to spruce it up.
Balcony sets – Balcony sets come in handy when you want to use the space well with matching furniture to create an aesthetic that is loved and admired by all. Choose chairs and tables that provide comfort and look attractive! Add proper ambient lighting to the space for an even better look overall. Wooden chair and table sets, a cot bench and stools in multiple shades, metal outdoor tables and chairs, leather sofa sets, etc can be opted for.
If you want to give the space an oomph factor, you can make the space more personal by adding plants and flowers for a vibrant atmosphere. With decorative elements like photo frames, mirrors, etc, your home will look no less than a page on an interior décor magazine. Enjoy your time in solace, host happening parties, invite your friends for a quiet board game night, have a lovely date night, etc in the outdoor space of your house that you have spent so carefully decorating. Browse through affordable, top-quality pieces of furniture that can liven up your home.