MOST EXPENSIVE PLACES TO BUY PROPERTY IN EDINBURGH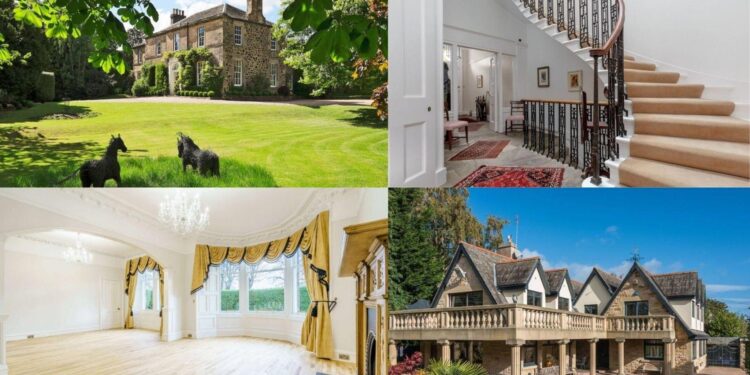 Edinburgh is the capital city of Scotland and it is often regarded as one of the best places to live in Europe. It has some of the most beautiful architecture you'll find across the whole United Kingdom, including some rustic buildings, magnificent rocks, some beautiful medieval architecture, and many stone decorations. Not only is it one of the most beautiful and picturesque locations in Europe, but Edinburgh is also a city of adventure, full of amazing places to visit. There are green hills, red cliffs, narrow passageways, and just all-around fun places that you can explore. It is one of the most popular tourist destinations, not just in the UK, but in the world.
A visit here could be very enjoyable, but living here is even more delightful. With the amazing year-round festivals, vibrant nightlife, and a bustling arts scene, Edinburgh is a thriving city. And this thriving city comes with loads of amazing housing options for you to choose from. If you do have an expensive taste and the wallet to match it, then you wouldn't mind splashing some hundreds of thousands on some of these beautiful houses. If you would like to know where you can find these lavish houses, we have compiled a list of five of the most expensive places that you can buy or sell property quickly in Edinburgh.
1. Morningside (Average property price of £472,943)
This is quite an obvious inclusion if you're already familiar with cities in Edinburgh. Morningside is a quaint, bustling village, that has a lot of amenities available to its residents. The quality of schools, dining options, as well as shopping centers are excellent, and that is why Morningside is one of the most favored locations for families that want to buy or sell property quickly.
2. Leith (Average property price of £325,155)
Leith is a town that is towards the north of the city center, and it has transformed from a city that had a bad reputation into one that is now highly sought-after. One major attraction to Leith is the number of Michelin-starred restaurants in the area, along with the many bars and cafes to enjoy. There are several flats, detached, and semi-detached houses on the market here, and they come with many great amenities.
3. Stockbridge (Average property price of £382,534)
Stockbridge is a town where the affluent are known to live. It used to be a sleepy village situated right on the outskirts of the city. With its classical architecture, cobbled streets, and excellent shops and restaurants, this town is very popular among both residents and tourists. The beautiful parks, architecture, and open spaces also mean there are always things and places to explore.
4. West End (Average property price of £471,889)
The West End in Edinburgh is a well-connected area with several well-maintained Georgian homes for you to choose from. It is a vibrant area with many shops, bars, and restaurants that serve to boost the bustling community atmosphere in the town.
5. Newington (Average property price of £468,973)
This is one of the most popular places to live in Edinburgh, especially among students because of its proximity to the University of Edinburgh. Families and young professionals also see this area as a great choice, with its great outdoor spaces, and numerous great housing options.