Places You Must See in Varanasi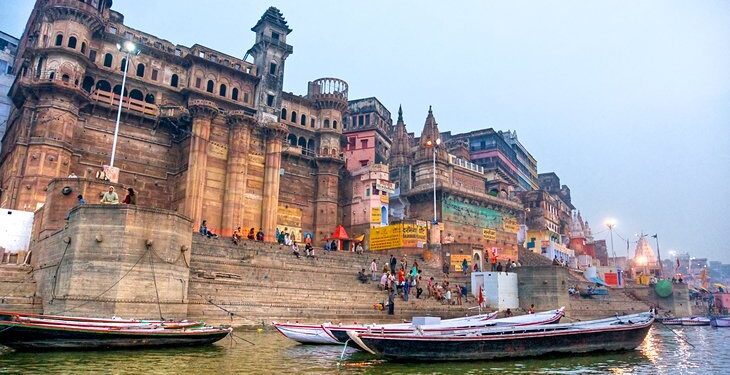 Varanasi is much of a popular city and is visited by a huge number of people from around the globe. Consider as the spiritual capital of India, it has manifold spots for tourists and travellers. If you have never been to this land of God, then you should do it now. So, book a room in one of the best hotels in Varanasi for a comfortable stay,as there is always rush of travellers, you may not get a good hotel if you book on the spot.
This post is going to walk you through some wonderful and beautiful spots of Varanasi that you should not miss when on your holiday to this land. After all, you will be full of experiences and good memories once you return from this place. So, without any delays, have a quick glance at some places below:
The Momentous Ramnagar Fort
This Ramnagar Fort was residence of preceding King of Varanasi. It was created by the King of Varanasi in the year 1750 AD. The fort was constructed using shiny red stones. It enjoys massive significance as it is an astronomical phenomenon. The massive clock in the palace displays the day, week, month, year and even specifically of astronomy of space objects. It even includes a lovely museum that comprises wide collection of swords, even costumes, palankeens and so on. Ramnagar Fort palace is definitely an assortment of architectural genius and astronomical fineness.  The fort will definitely get you a flavour of past!
The splendid Kashi Vishwanath Temple
Kashi Vishwanath Temple is the most charming, renowned and spiritual destination in Varanasi. The artistic temple is dedicated to Lord Shiva and is one of twelve Jyotirlingas. The temple even finds its mention in sacred scriptures. The artistic and beautiful structure of the temple owns sequences of smaller shrines located in Vishwanath Galli.   You would find a vibrant spirit and a soulful environment at this place. The Temple is a true delight for people who seek religious vibes and spirituality.
The Elegant Alamgir mosque
This mosque is revered for its amazing architecture and even privileged location. The mosque is rested on the edge of divine River Ganga and the shrine relishes a picturesque scene. This beautiful mosque was tastefully constructed by the great Mughal Emperor Aurangzeb. Alamgir mosque is even a charming piece of architecture. You will definitely experience the influence of North Indian and even Hindu architecture in chic of this splendid mosque though most of the mosque has been textured and designed in Islam architecture.  So, all in all, you would get a beautiful blend of Hindu and  Islamic touch in the architecture of this monument.  Not just the spiritual vibes but also creative moments are stored for you in this place.
Dashashwamedh Ghat
Dashashwamedh Ghat is one of the most ancient and even most critical ghats in Varanasi. The tourists can see manifold of pandits offering their prayers to divine powers. During the hours of evening, the whole ghat simply brightens up. Thousands of lovely lamps get lit beside the river Ganga. The entire environment gets covered with loud chanting of mantras, celebrated bells and even so much of delight. Divinity reins the entire ghat. Not just the locals but the travellers and tourists actively take part in the diverse activities of this amazing ghat.  You would find a divine vibe at this place and can feel really calm and excited at the same time.
Beautiful Durga Temple
Durga temple, which is even famously known as the monkey temple, is quite a popular temple of Varanasi. It is known as Monkey temple because you can easily and always find a huge number of monkeys circling it. The temple was constructed in the 18th century by a Bengali Maharani. The temple is gracefully painted red with ochre. It has loyally been believed that the idol of Goddess Durga in this amazing shrine was not built; yes, it came there on its own.
In the realm of Hinduism, Durga is defined as the essence of female power or Shakti, attired in red, riding a powerful tiger and completely armed with Vishnu's discus, Shiva's trident and a sword. In this Durga temple, non-Hindus can definitely step in the courtyard but not actually internal sanctum. Thousands of Hindu followers visit this shrine and the mass gets even vaster during the times of Navratri and other auspicious occasions.  You would find a festivity at this temple all the time.
Ganga River Ride in Boat
Among many different types of things and activities, being a tourist, you can cherish boat rides in Ganga River. Through such a ride, you can definitely cherish a delightful and extensive experience on the Ganga River. The rides can be carried out both at the time of beautiful Sun rise and even fascinating Sun set. The scenes of diversity of activities going on the banks and around are going to win your mind and even heart for sure.  Of course, you would find a great glimpse of a variety of activities going on all around the ganga river. Also, you would feel the true essence of Varanasi. A boat ride is definitely a must for any and every person who visits this city. You can capture some really religious and peaceful pictures too while taking the ride. Hence, it is going to be a wonderful experience for sure.
Visit Sarnath
It is placed ten kilometres from Varanasi. The place is quite popular as it was wherein Buddha delivered his foremost sermon after attaining enlightenment at Bodh Gaya. Then emperor Ashoka, who was a really staunch follower of Buddhism, built a stupa at Sarnath nearly two hundred thirty-four BC.  In the following centuries, different structures were emerged and constructed. It might interest you that the tallest statue of Buddha in the country is at this place. So, you should not miss out a quick trip to Sarnath while in Varanasi.
Conclusion
To sum up, just go ahead and book hotels in Varanasi for a comfortable stay and ensure you have a rich, memorable and memorable experience in this spiritual capital of India.