Confined Space Training: What To Know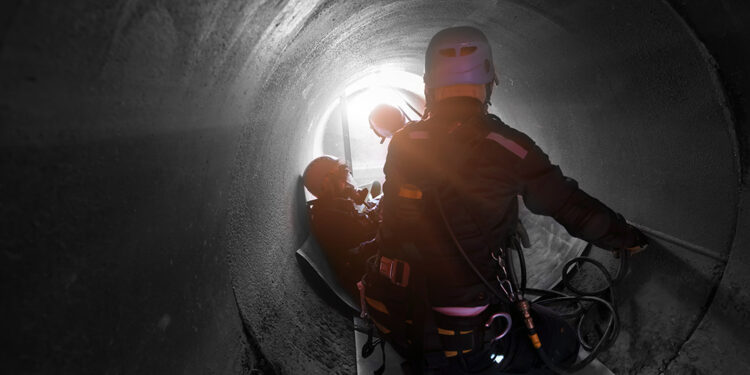 The Occupation Safety and Health Administration (OSHA) offer certification programs to teach employees about workplace safety. One of the topics and training involves confined spaces. It helps workers to know the dangers of working in enclosed spaces and how to work in confined spaces to reduce workplace injuries.
That said, here are essential things to know about confined space in safety training.
What is a Confined Space?
A confined space is an enclosed area that accommodates workers who work occasionally. Mainly, employees who work in confined spaces only need to get it to check for repairs and offer maintenance services. It can be dangerous to work in enclosed places. Hence, it would be best to get confined spaces training online to avoid risks and ensure safety.
Hazards of Confined Spaces
Risks surround employees who work in enclosed spaces. Hazards to expect in confined spaces include;
Oxygen deficiency

Excessive heat

Flammable chemicals

Explosive atmospheres

Flooding

Gases, fumes, and vapor
What to Cover in Confined Space Training
If you choose to learn about confined spaces, OSHA needs you to learn a few things. If you need to get confined spaces training online, here are things to learn during your training.
Learning about all safety procedures when entering confined spaces 

How to identify potential hazards in enclosed areas before you enter

How to work in a confined space without endangering the lives of those around

How to communicate with other employees when working

The specific work to carry out in a confined space

How to set up equipment that will be in use

Procedures to follow from entering work and getting out of confined spaces

Personal protective equipment to wear before entering a confined space
Importance of Confined Space Training
There are several reasons why you should get confined spaces training online, including;
Determines Associated Risks
Risks such as dangerous fumes and inadequate air supply can lead to the death of employees. However, employees trained to work in confined spaces know the hazards to expect in confined spaces and how to take safety precautions. In addition, after determining the risks, the employees can take emergency procedures and mitigate accidents before they happen.
Increases Awareness
During confined spaces training, you learn what enclosed spaces are and the dangers associated with working in these places. This increases awareness of hazards of confined spaces, how to work in them, and how to set equipment, and reduces the cases of injuries.
Improves Communication Skills
Working in enclosed areas can be hard to communicate with each other. While communication is key, it helps workers understand each other and act quickly if something goes wrong. Hence, training improves commutation skills, and you can get those outside to help you quickly during an emergency. In addition, workers can speak clearly and ensure that they deliver quality results.
Protect Employees from Unsafe Conditions
Sometimes, working in confined spaces is more dangerous than expected. There could be water leaks, fog, darkness, and slippery areas. Fortunately, you learn about it during confined spaces training online. Training helps you understand the procedures of entering confined spaces, mainly restricted areas. In addition, you are aware of potential hazards and can take precautions before it's too late.
Prevents You from Getting Trained
Lack of adequate training can lead to you getting trapped in an enclosed area. Sometimes, it can be challenging for rescuers to save you if you find yourself in such a situation. However, training helps you know the dangers of entering confined spaces and how to avoid getting trapped. Again, you learn how to enter narrow areas, safely work, and get out without injury. 
Ensures Safety in Hazardous Environments
The risk of injuries and deaths in hazardous confined spaces is high when the employees lack adequate training. However, good training allows employees to know what to wear and how to handle dangerous chemicals in hazardous areas. Again, you can navigate confined spaces correctly and know whether to carry on the job or not.
Bottom Line
Training in confined spaces is essential because it saves employees from injuries and deaths. You learn the hazards of confined spaces and the safety procedures while working. Hence, adequate training gives employees and employers peace of mind.