3 Examples Of Successful UK Partnership Businesses To Inspire Entrepreneurs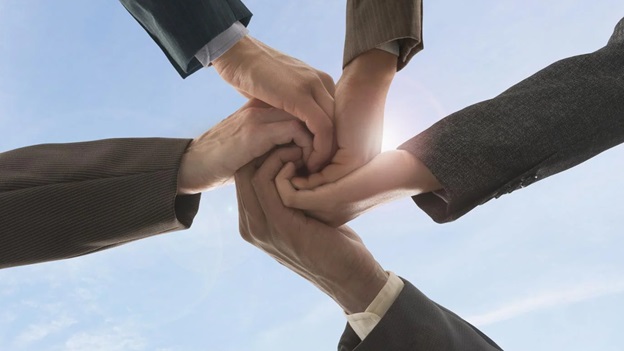 Budding entrepreneurs often fall into the trap of thinking that the saying, 'three is a crowd,' applies to business ventures too. Some even think that joining forces with other equally capable and like-minded changemakers will impede their own journey to success, recognition, and prosperity. Although a business started by a singular founder will not inevitably fail, opportunities to leverage the idea that 'two heads are better than one' should not be ignored for fear of having 'too many cooks in the kitchen' or being eclipsed by a partner. There are countless examples of local and global partnership businesses that have reached international recognition and success through the efforts of more than one founder – Real Business being one of them.
But, before we delve into examples of various UK partnership businesses that have achieved success by leveraging the skills and assets of more than one founder, let's take a look at what a partnership business actually is.
What Is A Partnership Business?
As the name implies, a partnership business involved two or more people partnering up to found a business using their combined skills, experience, and resources. As partners should, these individuals would agree to share any risks, responsibilities, profits, and losses – either equally or based on their individual levels of contribution.
If you are interested in starting a partnership business with a peer that you feel you can rely on, the successes can be just as sweet. We at Real Business have compiled three of the most successful UK partnership businesses in the world to inspire entrepreneurs like you. With these examples, we hope to put your mind at ease and demonstrate just how fruitful a joint venture can be.
Examples Of Successful UK Partnership Businesses
1 Yoomoo
Although many assume that mixing business and pleasure—or their business and personal life—is a recipe for failure, this is simply not the case. Many successful partnership businesses have been founded between family members – and even between spouses! And this is exactly what made Yoomoo the single most popular yogurt brand in the UK. Daniel and Amanda Gestetner used their unbreakable bond and an insightful trip to the USA to bring the irresistible taste and chill of frozen yogurt to the UK, opening their first Yoomoo bar in Harrods. Since then, this team of two has enjoyed massive profits and recognition as a notable power couple in business.
2 Mumsnet
Mumsnet, the UK's most popular website for parents, was founded by not one, but two friends in their bedroom in early 2000. Carrie Longton and Justine Roberts combined their insights and visions to create a much-needed online platform for parents that has reached international success by relying on a very simple premise – a careful work-life balance. Today, Mumsnet generates 7 million unique visitors and almost 100 million page views every month by making parents' lives easier and less overwhelming through advice, knowledge, and support. Although their passion is clearly parents over profits, Carrie and Justine generate ample funds through advertising and independent funding bodies.
Social Chain is an excellent example of joining forces with like-minded individuals to achieve success in our digitally-driven global market. Founders, Steve Bartlett and Dom McGregor, were originally social media publishers in online student communities and were both renowned across Europe. After meeting, their similar backgrounds, aspirations, and online interests brought forth a strong friendship and a fruitful partnership that resulted in the inception of Social Chain, the most successful influencer marketing agency and social publishing house in the UK. Since then, their combined minds have brought forth several notable successes and ample profits.
In 2014, Social Chain launched its social marketing division after becoming Europe's most sought after social publisher – namely, Social Chain Agency. It also achieved influencer marketing notoriety in Germany after landing contracts with growing talent. 2016 brought similar growth, seeing a newly launched Beauty Convention, GLOW, becoming the largest in Europe through social media. As of 2020, Social Chain sees continued growth, both internationally and locally, paying homage to the phrase, 'two heads are better than one.'
We hope that these inspiring examples of UK partnership businesses have removed any doubts you've had about embarking on a joint venture. We also hope that, when you need more business advice or inspiration, you come to Real Business for our insightful articles and interviews with incredible entrepreneurs.
To get started, subscribe to Real Business' free newsletter here!